first ride

i went of for my first real -- sorta -- ride on the new bike last night. i didn't go out for very long, mostly because i'm running a marathon on saturday, but also because my butt is not yet accustomed to the saddle, and i didn't want to be in TOO much pain today.
the bike is great; it's quick, and feels very responsive, and the shifting is precise and crisp.
one slightly problematic thing i noticed is that when i'm -- attempting -- to trackstand at lights, the front wheel bumps against my forward foot when i crank the handlebars around. it's not a big deal, but i did notice it.


while i was out i got a new bike gadget; it's called a topeak alien and it seems like it might be pretty cool.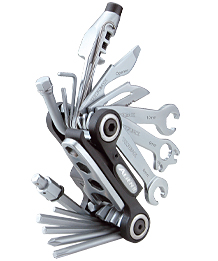 i held back and didn't get the one with the removeable fork.

i am a model of consumer restraint.